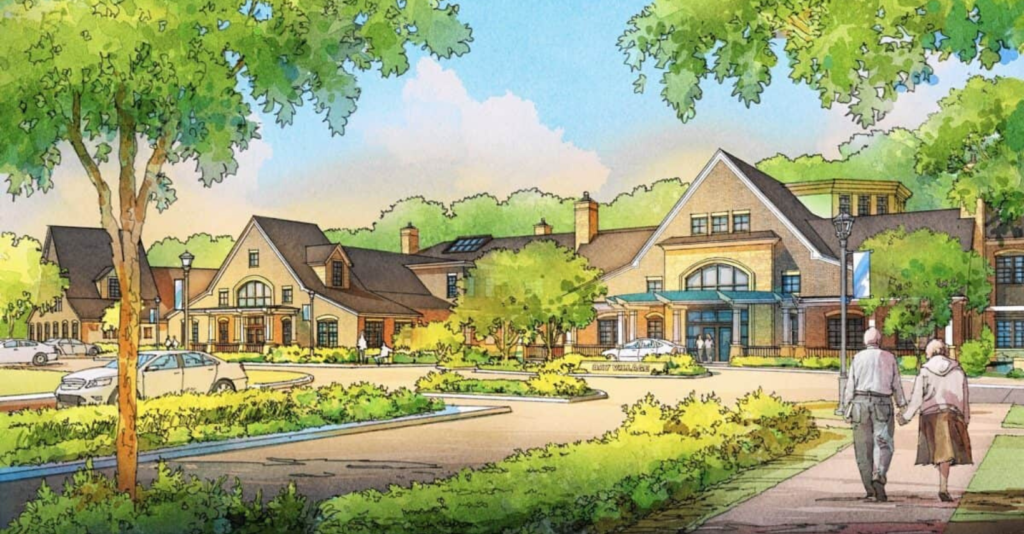 New assisted living and memory care choices come to Annapolis
by Phil Burgess, Unabridged from the Life section of the Annapolis Capital, Sunday June 7, 2020
Over the years, we've been treated to many expert forecasts that have turned out to be wrong. Among the most flagrant were forecasts after the 1970 Census about the coming "grey tsunami" and how the rapid growth of aging Americans would overwhelm everything – from housing to hospitals.
Well, the "grey tsunami" part happened. The "overwhelming" part didn't. Result: Another expert forecast that went off the tracks.
In 1975, Pulitzer Prize-winning author and physician, Dr. Robert Butler, wrote, referring to the nation's burgeoning elder population, "Why Survive? Being Old in America".
Referring to "old people", Butler noticed, "…suddenly there are large numbers of them and no one knows quite what to do."
He also frightfully observed that even more may be on the way, opining that "…anticipated breakthroughs in cures for major killers like cancer and heart disease may swell the ranks of the old even more."
Then he asks, "But is it all worth it? The truth is that we cannot promise a decent existence for those elderly now alive. We cannot house them, employ them or even feed them adequately."
But something happened on the way to Butler's dystopia – what he called "the tragedy of getting old in America".
Consider housing.
People did not wait for Butler's "we" to solve the challenges of housing for his tsunami of "old people". Instead, entrepreneurs jumped into the gap, producing an amazing array of housing choices for seniors – including:
Nursing homes for the infirm who require physician-supervised, skilled nursing care;
Memory care accommodation for seniors with memory related illness, such as Alzheimer's or dementia;
Assisted living for elderly who need (or desire) help with meals and other activities of daily living, including medication reminders; area providers include Sunrise, Brightview and Atria Manresa.
Continuing care retirement communities – called CCRCs – such as Ginger Cove and Bay Woods, which typically include opportunities for residents age-in-place while moving, as needed, from independent living to assisted living and, for some, to a nursing home setting with 24×7 skilled nursing medical care and sometimes even memory care;
Age-restricted, active-adult communities, such as the age 55+ Heritage Harbour community where residents typically lead an independent, active lifestyle in an amenity-rich, often country-club-style setting;
Tiny homes, where people, both young and old, live in small, affordable and easy-to-maintain spaces of 350-750 s.f.
Aging-in-place, aided by the rise of "universal design" building and renovation that makes navigating a traditional home easier and safer for older, disabled or chronically ill residents – often supplemented with home care that may include everything from assistance with activities of daily living to medication reminders and money management.
In addition, of course, there has been a sharp uptick in building apartments where those in later life can enjoy the benefit of independent living, an elevator and, in most cases, amenities of everyday life on site or close by – such as groceries, a pharmacy, and restaurants.
So, despite fears to the contrary advanced by experts in the 1970s and 1980s, there are many housing options today where healthy seniors – and even those not so healthy – can choose a type of living situation that is best for them, including the services they need to flourish in later life.
Annapolis is a highly valued retirement destination, so it's not surprising we are greatly advantaged with many senior housing options.
However, two more are joining the perch, and both are located off Forest Drive: Bay Village, an assisted living/memory care facility, opening this autumn, and The Village at Providence Point, a CCRC that will open in 2023.
Bay Village, opening in September, is an 88-apartment senior living community. It is located within the Annapolis city limits catty-corner to the Bay Forest shopping center and strategically placed between a CVS pharmacy and a Starbucks, both favored destinations for many seniors.
Unlike the much larger Village at Providence Point – with 265 independent living apartments plus 30 cottages, eight duplexes and 48 health care suites – the Bay Village assisted living and memory care community is under one roof – with 64 apartments for assisted living, eight for residents in transition, and 16 in a secure memory care neighborhood.
Unlike the typical CCRC where the resident is required to purchase an apartment and pay a monthly fee thereafter, Bay Village residents pay a one-time fee of $3,500 and then continue with a month-to-month lease.
According to John Degen, the visionary, energetic and hands-on executive operations officer, "Bay Village is state of the art, no matter how you cut it."
The lifelong Annapolis resident continued, "We have multiple dining venues overlooking quiet woods, including a bistro open 24/7, a demonstration kitchen for cooking classes and a gas-fired pizza oven. We also have an art studio, theater, expansive outdoor spaces, and a fitness center tailored to senior needs."
In addition to two large activity centers illuminated with natural light, outdoor spaces are impressive. There will be six large gardens when everything is completed in September, giving residents lovely open spaces where they can walk continuous paths and a surrounding verdant environment that includes three acres of forest conservation on its six-acre lot – a perfect setting for sitting, talking, reading, strolling, relaxing or feeding birds.
Bay Village also sports the latest technologies. These include walk-in spa tubs that fill in a few minutes, increasing safety and convenience. "Open Sesame" proximity locks on all apartment doors that dramatically increase security but free staff from resolving time-consuming problems that arise when the wrong person enters the wrong apartment either because of confusion or mischief-making.
Finally, Degen pointed out that Bay Village received a LEED designation, a green building certification program used worldwide to show compliance with leadership in energy and environmental design requirements – including underground parking and a storm water collector to supply water for the landscape.
Degen, marketing director Erin Watson and their parent company, IntegraCare, a Pittsburgh-based owner-operator of twelve senior care communities in the eastern US, are examples of how the private sector rose to the challenge of housing for later-life Americans, the most rapidly growing segment of our population.
Importantly, the senior housing sector rose to the challenge in a way that provides a wide range of choices at many different price points to meet all kinds of health care and personal needs. The result: Senior residents have the satisfaction of remaining independent while families have confidence that loved ones are well-cared for and living an active, healthy life in a safe and secure environment.
Get the Bonus Years column right to your inbox
We take your inbox seriously. No ads. No appeals. No spam. We provide — and seek from you — original and curated items that make life in the Bonus Years easier to understand and easier to navigate.