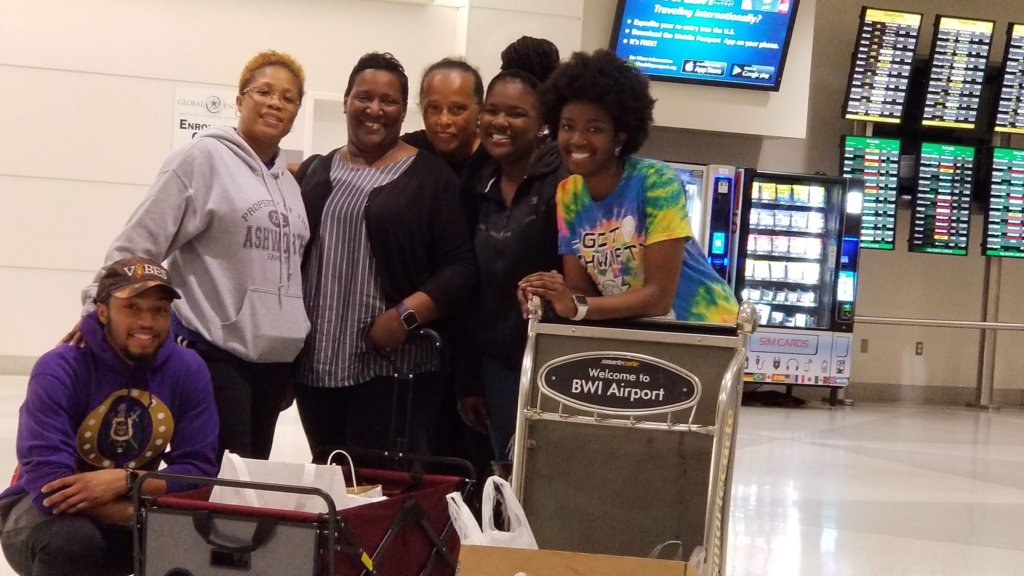 Volunteer group, led by later-life caregivers, assists homeless population at BWI Airport
June 9, 2019
/
/
Comments Off

on Volunteer group, led by later-life caregivers, assists homeless population at BWI Airport
by Phil Burgess, Unabridged from the Life section of the Annapolis Capital, Sunday June 9, 2019
A few weeks ago, we wrote about Severna Park's Asbury Community Assistance Network, where bonus years volunteers support individuals and families in crisis, providing food and other services to more than 1,000 people each week.
Last week, Rhonda Jackson, retired from Verizon and an uber volunteer for ACAN, and her volunteer husband Linwood, a retired environmental technician, drove me to one of ACAN's important food distribution points, arriving at Baltimore-Washington International Airport at 11:00 pm.
"Are you telling me there are homeless at BWI?" I asked.
Rhonda answered with a question. "Tell me where you can find a warm, safe place with clean restrooms, open 24×7, accessible by public transportation, uncrowded at night – where people haul their own belongings and sometimes even snooze on the floor or in a comfortable chair?"
The answer, of course, is a large, metropolitan airport – like BWI.
Call me blind, but until a couple of weeks ago, I didn't realize a homeless population calls BWI home and that BWI officials understand their plight.
A BWI spokesman said, "Homelessness is a serious, complex problem…that affects communities around the nation. We want homeless individuals at BWI-Marshall Airport to receive the support and the care they need. These are human beings who deserve our respect and our compassion."
If, as author and World magazine editor Marvin Olasky has written, compassion is sharing in the suffering of others, you will find it at BWI, where a cadre of volunteer "angels" from ACAN shows up every Thursday evening to serve the needs of the homeless.
The night I accompanied the angels they brought 126 sandwiches and 67 snack bags. The snack bags are filled with a bottle of water, fruit juice, several granola bars, trail mix, a piece of fruit, some chocolate and other items.
Every other week, they serve hot meals prepared by Glen Burnie Post 160 of the Veterans of Foreign Wars.
When we arrived at the terminal, Rhonda introduced me to Shawn Ashworth who, like Rhonda, is a go-getter, recruited a year go by Rhonda to replace her as the volunteer coordinator of ACAN's work at BWI.
Ashworth's day job is with Anne Arundel County public schools where she is a program specialist focusing on safe and orderly schools. Having just turned 50 and the mother of two adult children and also a grandmother, Ashworth is looking forward to retirement, after which she will devote full time to assisting the disadvantaged community in this region.
"Places like BWI appeal to the homeless looking for a safe place – especially women and families – where they can receive food, wash up with hot and cold running water and all can enjoy free access to WiFi and battery-charging stations and pick up some fresh clothes," she said.
As Ashworth was talking, I thought back to the words of ACAN executive director, Janet Pack, who told me some weeks ago that "ACAN's larger purpose is about instilling hope and dignity in the people it serves."
Meeting and talking with the homeless was eye-opening. The causes of their plight are many: mental health, unemployment, bad luck, drug or alcohol addiction – and often a combination.
But that's the perspective of the academic or policy maker. My ACAN guides at the airport that Thursday night were not focused on the causes of homelessness. They were there to come along side human beings in need, individuals and families who were homeless, hungry and hurting.
Indeed, many go to work. Many go to church. They just don't have a home. They needed food and shelter for sure. They needed combs, sanitary napkins, socks and other items of daily living.
But they also needed encouragement – some might say spiritual uplifting.
It was inspiring to see so many men and women in their bonus years volunteer their time, talent and, yes, even their personal treasure to help those in need at our state's largest airport. In fact, as I entered the airport, I witnessed a volunteer passing four dollars of her hard-earned money to a "client" to help cover her train fare back into Baltimore.
Several volunteers had also enlisted the participation of their teen-aged and young-adult offspring in the caregiving. As I watched the younger and older volunteers working together, I thought how fortunate the younger are to have parents to model this kind of giving-back – plus the opportunity to see community building and personal responsibility up close and what it means to "love thy neighbor".
"Remember, nobody grows up to be homeless," Linwood Jackson said as drove me back to my car. "Everybody has a dream. But something got in the way. Still, each of these people is a treasure."
Get the Bonus Years column right to your inbox
We take your inbox seriously. No ads. No appeals. No spam. We provide — and seek from you — original and curated items that make life in the Bonus Years easier to understand and easier to navigate.